Die Schauspieler haben gesprochen und haben "Bombshell" zum Favoriten erklärt, zumindest aus darstellerischer Sicht, denn da übertrumpft die bissige Drama-Satire die Konkurrenz. Dicht dahinter die Favoriten "The Irishman", "Marriage Story" und "Once upon a time… in Hollywood". Überraschendes Fehlen von Kritikerliebling Antonio Banderas, sowie Golden Globe-Comedy-Favoritin Akwafina, "Irishman" Veteran Robert DeNiro und "Little Women" in Gänze! Dafür beweisen Lupita Nyong´o und Taron Egerton, dass ihr Auftauchen bei den Golden Globes keine Eintagsfliege war! Es bleibt also spannend, vor allem weil nicht alle Screener rechtzeitig bei den SAG-Votern eingetroffen waren… Was denkt ihr – wer macht den Cut?
FILMNOMINIERUNGEN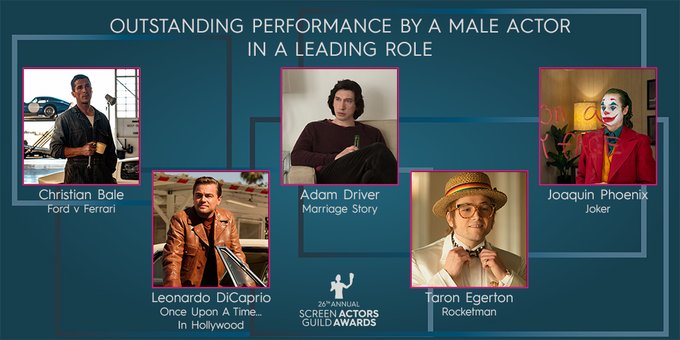 Bester Hauptdarsteller
CHRISTIAN BALE / Ken Miles – "LE MANS 66 – GEGEN JEDE REGEL"
LEONARDO DiCAPRIO / Rick Dalton — "ONCE UPON A TIME…"
ADAM DRIVER / Charlie Barber – "MARRIAGE STORY"
TARON EGERTON / Elton John – "ROCKETMAN"
JOAQUIN PHOENIX / Arthur Fleck – "JOKER"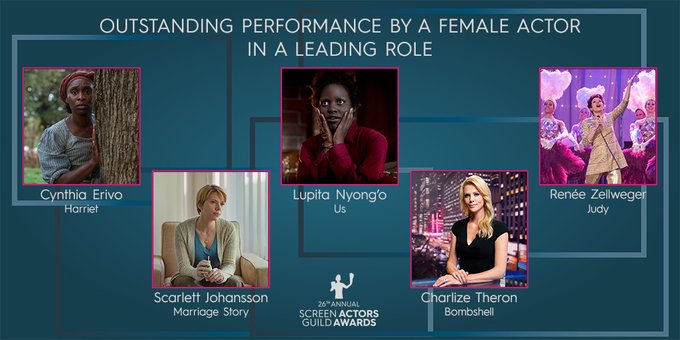 Beste Hauptdarstellerin
CYNTHIA ERIVO / Harriet/Minty – "HARRIET"
SCARLETT JOHANSSON / Nicole Barber – "MARRIAGE STORY"
LUPITA NYONG'O / Adelaide Wilson/Red – "US"
CHARLIZE THERON / Megyn Kelly – "BOMBSHELL"
RENÉE ZELLWEGER / Judy Garland – "JUDY"
Bester Nebendarsteller
JAMIE FOXX / Walter McMillian – "JUST MERCY"
TOM HANKS / Fred Rogers – "A BEAUTIFUL DAY IN THE NEIGHBORHOOD"
AL PACINO / Jimmy Hoffa – "THE IRISHMAN"
JOE PESCI / Russell Bufalino – "THE IRISHMAN"
BRAD PITT / Cliff Booth – "ONCE UPON A TIME… IN HOLLYWOOD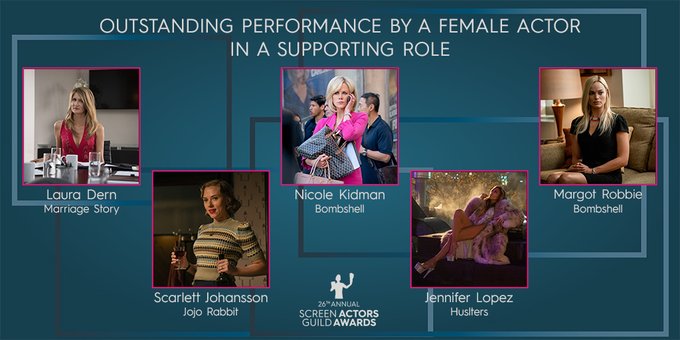 Beste Nebendarstellerin
LAURA DERN / Nora Fanshaw – "MARRIAGE STORY"
SCARLETT JOHANSSON / Rosie – "JOJO RABBIT
NICOLE KIDMAN / Gretchen Carlson – "BOMBSHELL"
JENNIFER LOPEZ / Ramona – "HUSTLERS"
MARGOT ROBBIE / Kayla Pospisil – "BOMBSHELL"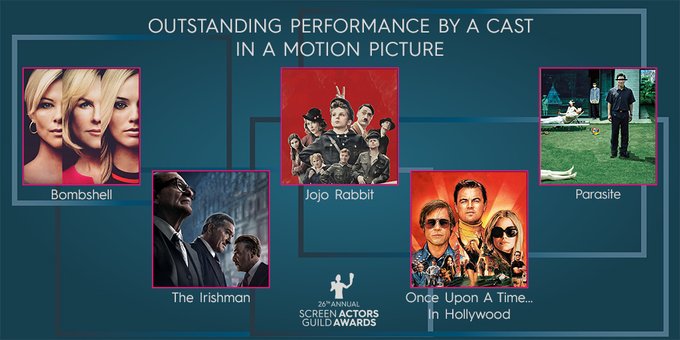 Bestes Ensemble
BOMBSHELL
THE IRISHMAN
JOJO RABBIT
ONCE UPON A TIME… IN HOLLYWOOD
PARASITE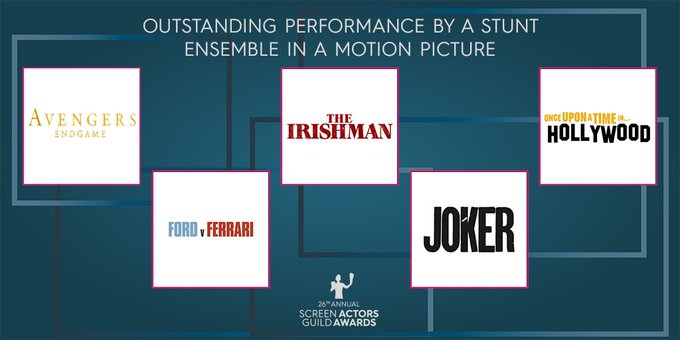 Bestes Stunt-Ensemble
AVENGERS: ENDGAME
THE IRISHMAN
JOKER
LE MANS 66 – GEGEN JEDE REGEL
ONCE UPON A TIME…IN HOLLYWOOD
---
TV-NOMINIERUNGEN
Hier gibt es tatsächlich einige Überraschen! Z.B. ist Meryl Streep für "Big Little Lies" trotz Ensemble-Nominierung nicht vertreten und "Mrs Maisel" hat mit 4 Nominierungen Favorit "Fleabag" übertrumpft.
Bestes Ensemble einer Drama-Serie:
Big Little Lies
The Crown
Game of Thrones
Handmaid´s Tale
Stranger Things
Bestes Ensemble einer Comedy-Serie:
Barry
Fleabag
The Kominsky Method
The Marvelous Mrs. Maisel
Schitt's Creek
Bestes Stunt-Ensemble in einer Comedy- oder Drama-Serie:
Game of Thrones
GLOW
Stranger Things
The Walking Dead
Watchmen
Bester Darsteller in einem TV-Movie oder Miniserie:
Mahershala Ali ("True Detective")
Russell Crowe ("The Loudest Voice")
Jared Harris ("Chernobyl")
Jharrel Jerome ("When They See Us")
Sam Rockwell ("Fosse/Verdon")
Beste Darstellerin in einem TV-Movie oder Miniserie: 
Patricia Arquette ("The Act")
Toni Collette ("Unbelievable")
Joey King ("The Act")
Emily Watson ("Chernobyl")
Michelle Williams ("Fosse/Verdon")
Bester Darsteller in einer Drama-Serie: 
Sterling K. Brown ("This Is Us")
Steve Carell ("The Morning Show")
Billy Crudup ("The Morning Show")
Peter Dinklage ("Game of Thrones")
David Harbour ("Stranger Things")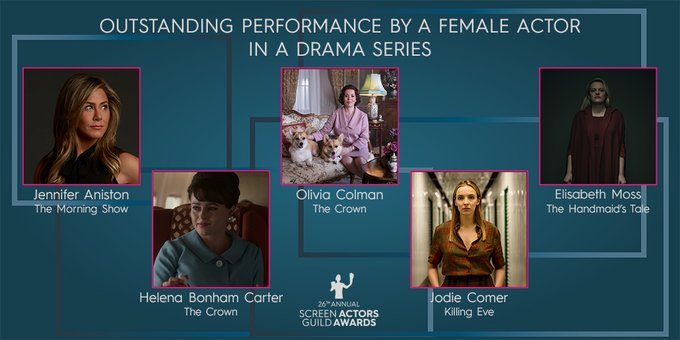 Beste Darstellerin in einer Drama-Serie: 
Jennifer Aniston ("The Morning Show")
Helena Bonham Carter ("The Crown")
Olivia Colman ("The Crown")
Jodie Comer ("Killing Eve")
Elisabeth Moss ("The Handmaid's Tale")
Bester Darsteller in einer Comedy-Serie: 
Alan Arkin ("The Kominsky Method")
Michael Douglas ("The Kominsky Method")
Bill Hader ("Barry")
Andrew Scott ("Fleabag")
Tony Shalhoub ("The Marvelous Mrs. Maisel")
Beste Darstellerin in einer Comedy-Serie: 
Christina Applegate ("Dead to Me")
Alex Borstein ("The Marvelous Mrs. Maisel")
Rachel Brosnahan ("The Marvelous Mrs. Maisel")
Catherine O'Hara ("Schitt's Creek")
Phoebe Waller-Bridge ("Fleabag")