Es war DIE Überraschung der Nacht – zum allerersten Mal hat ein fremdsprachiger Film den Hauptpreis der Verleihung erhalten: PARASITE hat "Best Ensemble" erhalten und ist nach der "Editing Guilde" in einer Frontrunnerposition und hat den BUZZ der Industrie! Kann er wirklich den Doppelgewinn beim "Besten Film/Bester internationaler Film" holen? Ansonsten gab es in den Filmkategorien keine Überraschungen: Die Darstelleroscars dürften genau die 4 selben werden wie hier, wie auch schon bei den Golden Globes oder glaubt da wer noch an eine Überraschung? Für wen schlägt Euer Herz? Würdet ihr "Parasite" auch den Doppelschlag gönnen?
FILMNOMINIERUNGEN
Bester Hauptdarsteller
CHRISTIAN BALE / Ken Miles – "LE MANS 66 – GEGEN JEDE REGEL"
LEONARDO DiCAPRIO / Rick Dalton — "ONCE UPON A TIME…"
ADAM DRIVER / Charlie Barber – "MARRIAGE STORY"
TARON EGERTON / Elton John – "ROCKETMAN"
JOAQUIN PHOENIX / Arthur Fleck – "JOKER" (*)
Beste Hauptdarstellerin
CYNTHIA ERIVO / Harriet/Minty – "HARRIET"
SCARLETT JOHANSSON / Nicole Barber – "MARRIAGE STORY"
LUPITA NYONG'O / Adelaide Wilson/Red – "US"
CHARLIZE THERON / Megyn Kelly – "BOMBSHELL"
RENÉE ZELLWEGER / Judy Garland – "JUDY" (*)
Bester Nebendarsteller
JAMIE FOXX / Walter McMillian – "JUST MERCY"
TOM HANKS / Fred Rogers – "A BEAUTIFUL DAY IN THE NEIGHBORHOOD"
AL PACINO / Jimmy Hoffa – "THE IRISHMAN"
JOE PESCI / Russell Bufalino – "THE IRISHMAN"
BRAD PITT / Cliff Booth – "ONCE UPON A TIME… IN HOLLYWOOD (*)
Beste Nebendarstellerin
LAURA DERN / Nora Fanshaw – "MARRIAGE STORY" (*)
SCARLETT JOHANSSON / Rosie – "JOJO RABBIT
NICOLE KIDMAN / Gretchen Carlson – "BOMBSHELL"
JENNIFER LOPEZ / Ramona – "HUSTLERS"
MARGOT ROBBIE / Kayla Pospisil – "BOMBSHELL"
Bestes Ensemble
BOMBSHELL
THE IRISHMAN
JOJO RABBIT
ONCE UPON A TIME… IN HOLLYWOOD
PARASITE (*)
Bestes Stunt-Ensemble
AVENGERS: ENDGAME (*)
THE IRISHMAN
JOKER
LE MANS 66 – GEGEN JEDE REGEL
ONCE UPON A TIME…IN HOLLYWOOD
---
TV-NOMINIERUNGEN
Hier gibt es tatsächlich eine groé Überraschung: "Mrs Maisel" hat sich mit 2 Preisen gegen den Favoriten "Fleabag" übertrumpft, der "lediglich" Beste Comedy-Serien-Darstellerin holt und Jennifer Aniston schlägt die hochkarätige Konkurrenz! Ebenso erfolgreich war "Fosse/Verdon", die beide Nominierungen im Gewinne ummünzen konnten! Auch das Finale von Game of Thrones sollte nicht leer ausgehen: Peter Dinklage und das Stunt-Ensemble wurde geehrt!
Bestes Ensemble einer Drama-Serie
Big Little Lies
The Crown (*)
Game of Thrones
Handmaid´s Tale
Stranger Things
Bestes Ensemble einer Comedy-Serie
Barry
Fleabag
The Kominsky Method
The Marvelous Mrs. Maisel (*)
Schitt's Creek
Bestes Stunt-Ensemble in einer Comedy- oder Drama-Serie
Game of Thrones (*)
GLOW
Stranger Things
The Walking Dead
Watchmen
Bester Darsteller in einem TV-Movie oder Miniserie
Mahershala Ali, True Detective
Russell Crowe, The Loudest Voice
Jared Harris, Chernobyl
Jharrel Jerome, When They See Us
Sam Rockwell, Fosse/Verdon (*)
Beste Darstellerin in einem TV-Movie oder Miniserie
Patricia Arquette, The Act
Toni Collette, Unbelievable
Joey King, The Act
Emily Watson, Chernobyl
Michelle Williams, Fosse/Verdon (*)
Bester Darsteller in einer Drama-Serie
Sterling K. Brown, This Is Us
Steve Carell, The Morning Show
Billy Crudup, The Morning Show
Peter Dinklage, Game of Thrones (*)
David Harbour, Stranger Things
Beste Darstellerin in einer Drama-Serie
Jennifer Aniston, The Morning Show (*)
Helena Bonham Carter, The Crown
Olivia Colman, The Crown
Jodie Comer, Killing Eve
Elisabeth Moss, The Handmaid's Tale
Bester Darsteller in einer Comedy-Serie
Alan Arkin, The Kominsky Method
Michael Douglas, The Kominsky Method
Bill Hader, Barry
Andrew Scott, Fleabag
Tony Shalhoub. The Marvelous Mrs. Maisel (*)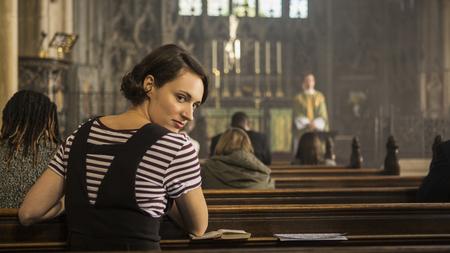 Beste Darstellerin in einer Comedy-Serie 
Christina Applegate, Dead to Me
Alex Borstein, The Marvelous Mrs. Maisel
Rachel Brosnahan, The Marvelous Mrs. Maisel
Catherine O'Hara, Schitt's Creek
Phoebe Waller-Bridge, Fleabag (*)